IDEE Archives
This Archives section of IDEE's new web site (www.idee-us.org) will be used to post new digitalized materials of IDEE's programs and publications that offer insight into the recent history of the region of Eastern Europe and the former Soviet Union. It will include materials related to the transformation from 1989-91 and the now 25-year-long period of transition from communism, as well as from the period of opposition to communism before 1989-91. Among the materials posted will be scanned copies of selected issues of Uncaptive Minds, published from 1988–91 (see below).
Interested readers may also continue to access IDEE's original web site (www.idee.org), which maintains the archive of web posts from 1998–2014, including descriptions of IDEE's democracy programs and initiatives over the last twenty years, its activities reports from the last fifteen years, articles, and publications issued as part of its programs, such as the Centers for Pluralism Newsletter.
Uncaptive Minds Digital Archives
Uncaptive Minds, published from 1988 to 1997, is the most comprehensive journal from this period about the transition from communism in Eastern Europe written by those in the region bringing about democratic change. It remains important for its historical content — one can find the full range of opposition and democratic voices in the region during one of the most important periods of political transformation in world history — but also for understanding the current situation in the region. Indeed, much of what today is considered accepted knowledge about the region was first identified, predicted, or analyzed in Uncaptive Minds years earlier. IDEE hopes to post the full nine volumes of IDEE in digitalized format. Initially, the first three issues of Volume 1, from 1988, are being posted at this time. Read More.
Other Materials and Publications
IDEE will also post materials from its earlier programs, including from its predecessor organization, the Committee in Support of Solidarity, one of the most comprehensive and successful human rights campaigns in NGO history. Initially, it is posting the Solidarność Bulletin, which had four numbers. The first issue was published in October 1981, just before martial law was imposed in December of that year, and was prepared and edited by several individuals who later helped form the Committee in Support of Solidarity. Three more issues of the Bulletin were published under the auspices of the Committee and the League for Industrial Democracy, which was affiliated with the AFL-CIO labor federation. The four issues together provide important insights into the initial history of Solidarity, the largest mass opposition movement in the history of communist dictatorship, from August 1980 to December 1982. Read More.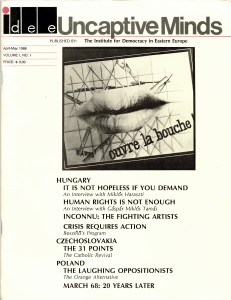 Cover: Issue No. 1, April-May 1988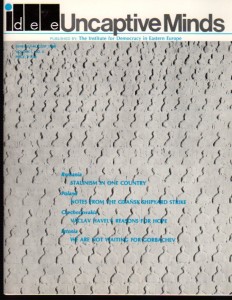 Cover: Issue No. 2, June-July-August, 1988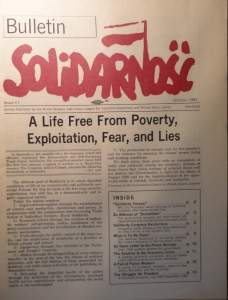 Cover, Issue No. 1, October 1981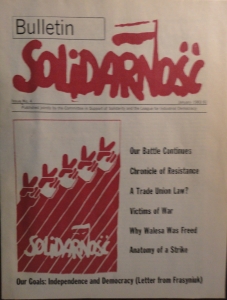 Cover, Issue No. 4, January 1983